QuTS hero
edition
High-performance ZFS-based operating system with greater reliability
ZFS-based QuTS hero ensures performance and data integrity
Faced with the explosive growth of data, VDI popularity, increasing SSD adoption, 8K media, and other disruptive IT trends, modern businesses need dependable storage systems to meet future demands. QNAP's new "QuTS hero" operating system combines the app-based QTS with a 128-bit ZFS file system to provide flexible storage management, comprehensive data protection and optimized performance to meet the needs of business-critical applications.

Learn More: Why QNAP business NAS uses ZFS
Empower your business - Upgrade to QuTS hero now!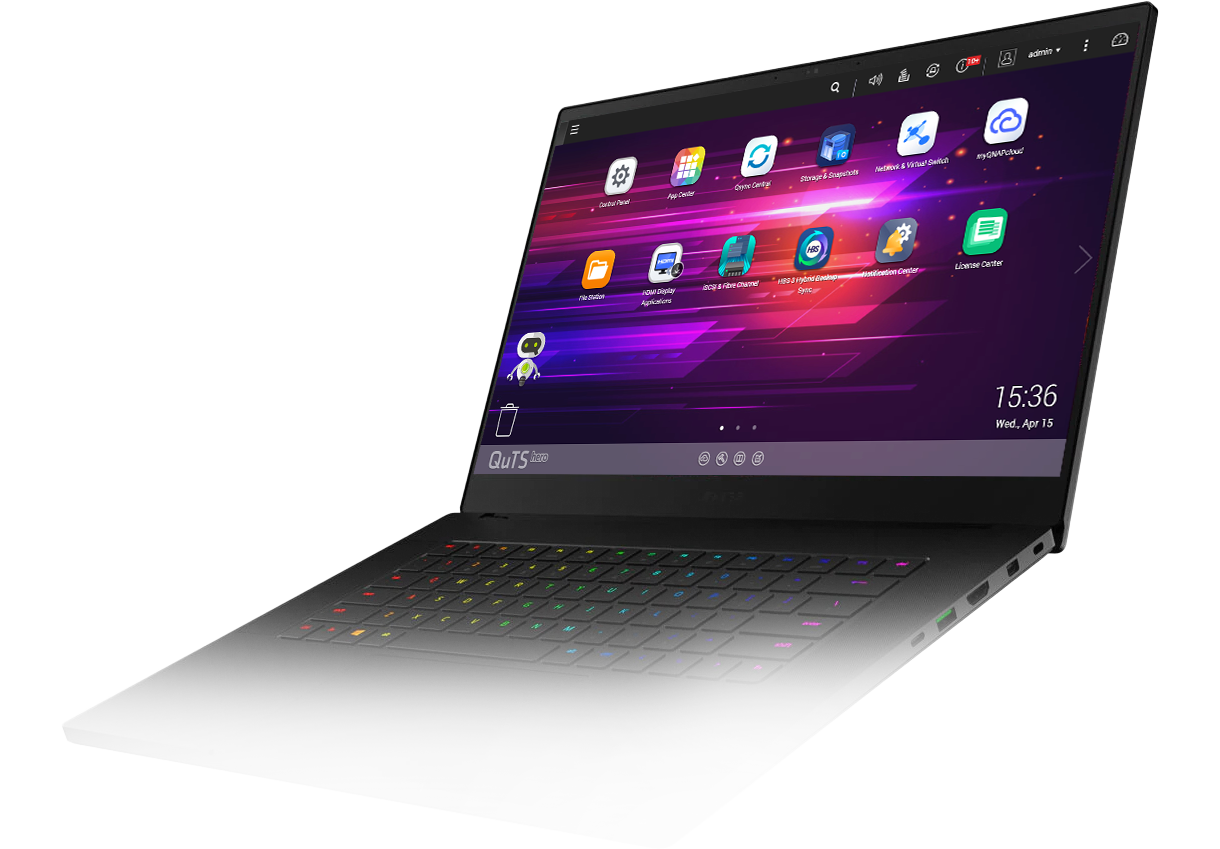 Improve your storage performance with inline data deduplication, compression, and compaction
Inline Data Deduplication

Inline deduplication is block-based and is carried out before data is written to storage. This greatly optimizes storage usage while significantly decreasing storage capacity requirements.

Inline Compression

Compress data to reduce storage I/O workloads for improved performance. In VDI, deduplicated virtual desktops are easily cached to achieve optimal virtual desktop performance.

Inline Compaction

Especially helpful for increasing SSD storage efficiency when highly-repetitive data or massive small files (e.g. transaction logs of banks or e-commerce) are generated. It delivers higher cost efficiency for all-flash storage systems.
Self-Healing ensures data integrity and reliability
Data integrity is key to the reliability of applications and databases. As SSD adoption grows, businesses will encounter a greater risk of data loss as it is difficult to recover data from a dead SSD. Designed with a focus on data integrity, ZFS uses end-to-end checksums to detect and correct silent data corruption caused by hardware defects, bugs in firmware or metadata errors. If an integrity violation is detected, ZFS automatically repairs the damage using data from another mirror before the data is passed to applications. QuTS hero is also WORM (Write Once, Read Many Times) compliant to ensure that data, once written, cannot be modified.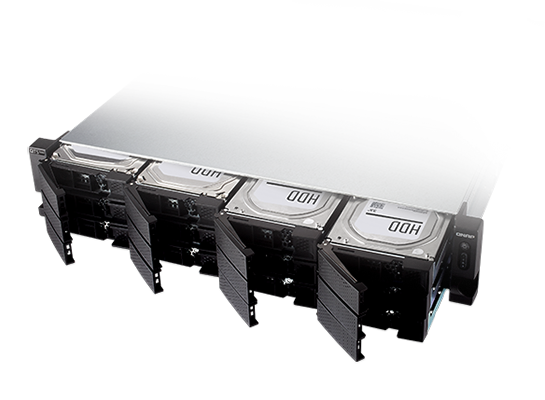 Robust data protection and flexible capacity utilization with RAID Z
QuTS hero supports conventional RAID configurations (RAID 0 (Striped), RAID 1 (Mirror), RAID 5, RAID 6, RAID 10, RAID 50, and RAID 60) and adds support of RAID Triple Parity for protecting against three-disk failures and Triple Mirror for an identical copy of data stored on three disks. Designed to deal with petabytes of data, RAID Z demonstrates an outstanding tool for creating ready-to-use high-capacity RAID in a matter of seconds.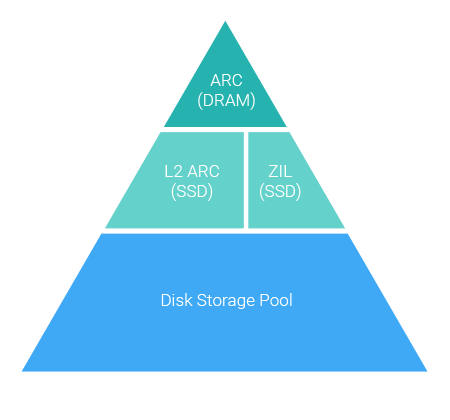 Multi-level cache technology with both read and write boosts performance
ZFS simultaneously supports main memory read cache (L1 ARC), SSD second-level read cache (L2 ARC), and ZFS Intent Log (ZIL) for synchronous transactions. The L1 ARC works with the L2 ARC to minimize hard drive access requirements while boosting read performance. The ZIL is useful for applications with large synchronous random write workloads (such as databases), as data will be written to the ZIL first and then written to storage, helping to decrease latency and improve write performance.
Snapshots multiply backup protection
Near-limitless, instant snapshots bring you peace of mind

Supports up to 65,535 snapshots for iSCSI LUN and shared folders (if 1 snapshot is created every hour, 24 snapshots per day, then up to 7 years of snapshots can be created without needing to delete any!). Copy-on-write technology makes snapshot creation almost instantaneous without affecting ongoing data writing.

Snapshot Replica simplifies data protection

Efficiently replicates snapshots to a remote server by copying only the changes made. This can save time and bandwidth, and can be run manually or on a scheduled basis.

SnapSync for remote snapshot replication enables enterprise-class disaster recovery

Supports block-level SnapSync for remote snapshot backups. It only transfers changed data to save required storage space and to improve backup speeds. Real-time SnapSync ensures that when a change is made to the files in the target storage space, a remote replication will be processed. In the event of a primary site failure, SnapSync assists businesses to resume essential services in the shortest time.

(SnapSync will be available from Q3 2020)
Pool over-provisioning ensures write performance
With Pool Over-provisioning, space can be flexibly reserved in a storage pool to allow new data to be written into a complete block even if the pool is almost full, thus improving the performance of fragmented pools. For write-intensive workloads and performance-demanding applications (such as SQL transaction logs, backups, surveillance, and medical videos) you can set higher pool over-provisioning to attain higher write performance.
When big blocks are written to hard drives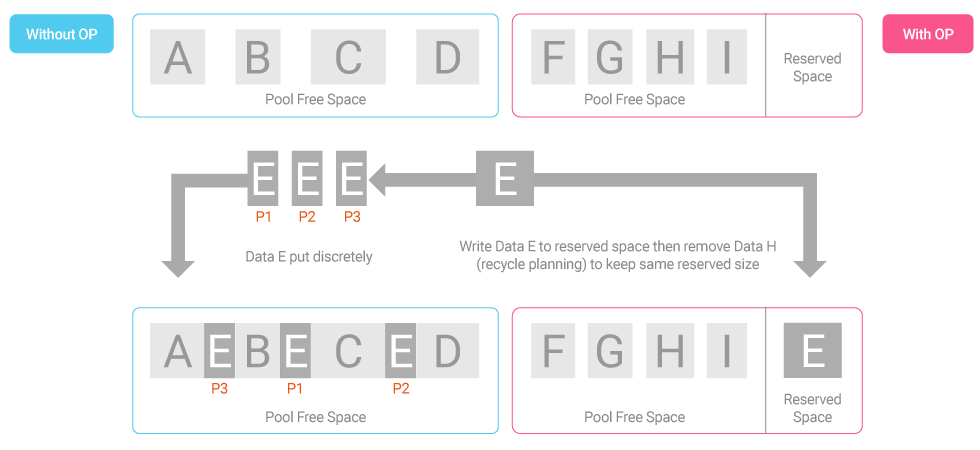 When small blocks are written to SSD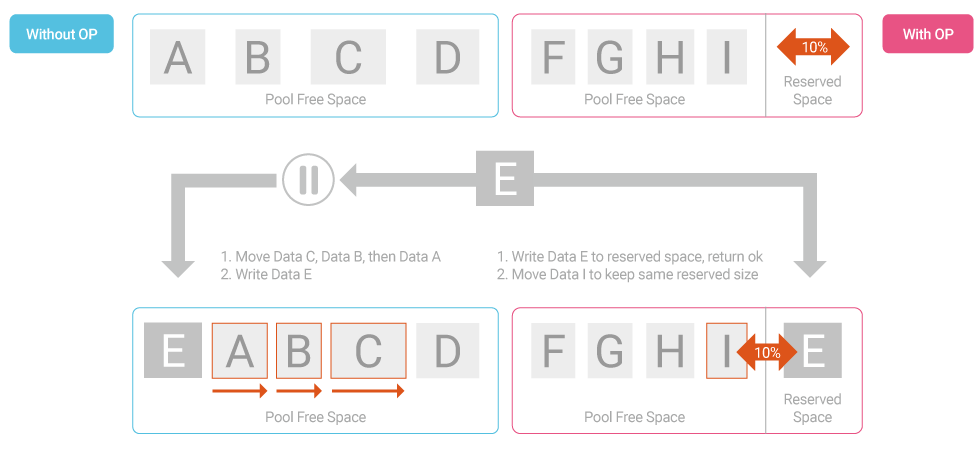 About NAS migration and RAID management for QuTS hero
As ZFS metadata management is different from Ext4, QTS-based NAS drives cannot be directly used by a QuTS hero-based NAS (and vice versa). Users can install new hard drives to start QuTS hero. If QTS users want to use their existing drives in QuTS hero, they must first ensure all of their drive data has been backed up, and then initialize the hard drives. It is recommended that users thoroughly evaluate their storage needs before installing QuTS hero.

Expanding the storage capacity of a QuTS hero NAS requires adding a complete RAID group to the Storage Pool. Once a RAID group is created, it does not support expanding a RAID group by adding an individual hard drive and does not support migrating RAID levels. Users can allocate spare hard drives for Hot Spare protection or creating additional RAID groups. Users must have enough drive bays to facilitate storage expansion needs in the future when configuring storage in different stages.
| Storage expansion methods | QuTS hero operating system | QTS operating system |
| --- | --- | --- |
| Add an individual disk to an existing RAID group | ----- | |
| Add a RAID group to a Storage Pool | | |
| Replace all member disks of a RAID group with higher-capacity disks | | |
| Connect JBOD expansion units | | |
QuTS hero benefits
Data Protection

Data integrity with self-healing capabilities

Outstanding Performance

Integrated SSD read/write caching for business efficiency

Flexibility & Reliability

Flexible capacity management and reliable data backups

Feature-rich QTS Apps

Expand NAS functionality without extra costs
Includes the full QTS App Center
QuTS hero includes the full App Center ecosystem, allowing you to boost your NAS functionality with tools for backup/sync, business, content management, surveillance, productivity, and much more.
Affordable Fibre Channel SAN storage solution for post-production
Storage Area Networks (SAN) deliver reliable high performance, making it a preferable storage option for post-production environments that require low-latency and fast data transfer. By using a QNAP 16Gb/32Gb Fibre Channel card, a QuTS hero NAS can be easily added to existing SAN environments at an affordable price point. With exceptional IOPS performance, powerful data reduction capabilities, self-healing against silent data corruption, and comprehensive backup/restoration features, QuTS hero NAS provides a perfect high-capacity, FC-compatible data center for professional video studios.

Learn more: QNAP 16Gb/32Gb Fiber Channel expansion cards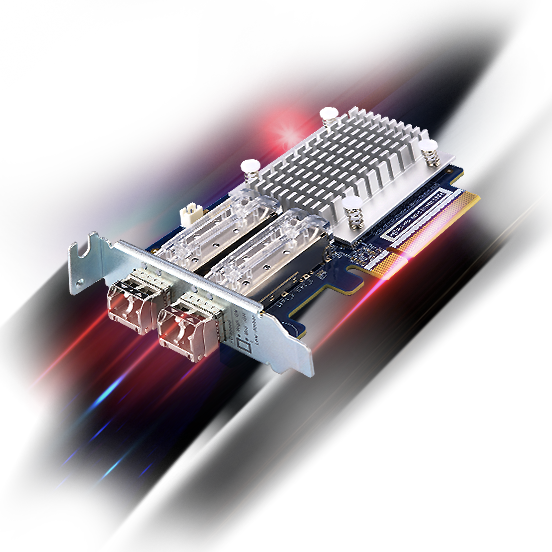 Special edition QNAP NAS with QuTS hero preinstalled
QNAP provides the following special edition QNAP NAS with a preinstalled QuTS hero operating system. Take advantage of high-performance hardware and expandability with the cutting-edge storage management, data protection and optimized features of QuTS hero!
TS-h1283XU-RP-E2236-32G
TS-h1283XU-RP-E2236-128G

TS-h1277XU-RP-3700X-32G
TS-h1277XU-RP-3700X-128G

Intel® Xeon® E2236 6-core/12-thread 3.4 GHz processor (Burst up to 4.8 GHz)
AMD Ryzen™ 7 3700X 8-core/16-thread 3.4 GHz processor (Turbo Core 4.4 GHz)
2 x 16GB / 4 x 32GB DDR4 ECC RAM
2 x 16GB / 4 x 32GB DDR4 RAM
Tiered storage configuration for a QuTS hero NAS
Follow these steps to acquire optimal storage efficiency and performance for QuTS hero.
Step 1: System Drive

The first Storage Pool you create will be the system drive. Creating an SSD RAID with at least two SSDs for the system drive is recommended.

Step 2: Read Cache & ZIL

Use more SSDs for read cache or ZIL. You can also install QM2 expansion cards to add M.2 SSDs for expanding cache space.

Step 3: Data Storage

Allocate HDDs/SSDs to create a RAID for storing files and application data. If needed, you can configure an all-flash configuration for optimal performance.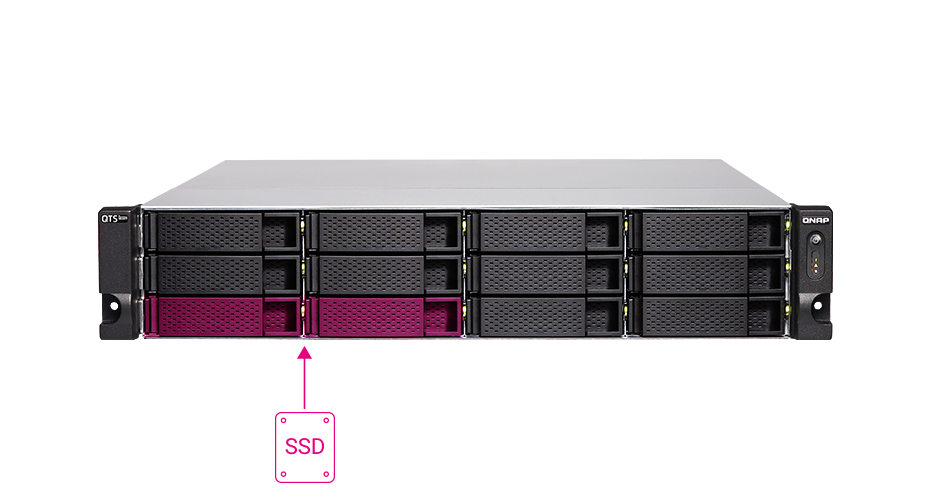 Производительность передачи файлов
По сравнению с операционной системой QTS, новая QuTS hero предлагает лучшую производительность передачи данных и возможность реализации всего потенциала сетей 10 Гбит/c.
Операционная система
QuTS hero
QTS 4.4.1
iSCSI
1*4 КБ
Произвольная запись
33917
11191
Произвольное чтение
93407
88152
SMB 3.0
1*4 КБ
Произвольная запись
34168
11367
Произвольное чтение
67922
80669
SMB 3.0
Копирование файлов
1*10 ГБ
Запись
1154
1136
Чтение
1162
1142
SMB 3.0
Копирование файлов
10000*1 МБ
Запись
256
26
Чтение
453
51
---
Встроенное сжатие данных помогает повысить скорость передачи данных: при одновременной передаче файлов от нескольких клиентов на NAS под управлением QuTS hero с включенным сжатием данных производительность в 1,6 раза выше, чем в случае операционной системы QTS или QuTS hero без него.
Notes
QuTS hero requires a NAS with at least 4GB memory.
Inline Data Deduplication requires a NAS with at least 8GB memory (at least 32GB memory is recommended for optimal performance).